ACCESS THIS RECORDED WEBINAR ON DEMAND TODAY
Empty space, drag to resize
Assessment and Curriculum Design Conversation
Running time: 75 minutes

Many teachers are reporting finding the documentation load associated with assessment and curriculum design onerous and sometimes relatively meaningless. The last thing busy teachers need is to be occupied by tasks that do not contribute to quality teaching and learning.


This webinar is an opportunity to listen in on a conversation between three experienced and knowledgeable ECE leaders as they discuss some of the curly issues associated with assessment and curriculum.


Angela Bush, Bridgit Williams and Barbara Watson will be drawing on their experience in the sector to discuss and debate:
How well current methods of documentation capture teaching and learning?
Whether there might be alternative methods that would meet the needs of teachers, children and whānau better.
What supports teacher's ability to record meaningful documentation.
Common misunderstandings about documentation and therefore why it has become a challenge for so many.
Presented By
Barbara Watson
PhD; MEdAdmin; BEd (ECE); Dip.Tchg (Primary)
Bridgit Williams
MProfStud(Ed); BA (Ed); DipTchgECE; PGDip Montessori
Angela Bush
Bachelor of Education (ECE), Diploma of Nursing, Diploma of Teaching (ECE)
PAY ONCE
NZ $30

SAVE WITH MEMBER'S CLUB

Get

full access

to ALL of our Live

Webinars, On Demand Webinars,

Courses, Resources, and support

from just $29 a month when you
Certificate of completion provided
for your professional learning records
for every webinar you attend.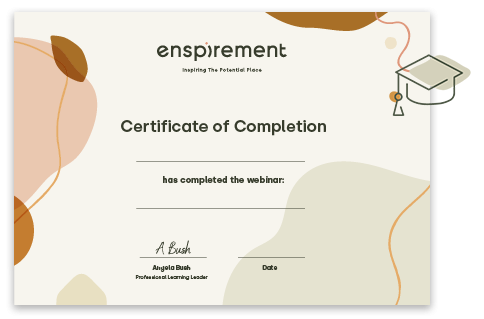 People who liked this webinar also liked...
1-005 Defining Your Local Curriculum
Presented by Bridgit Williams from Inspired ECE
Empty space, drag to resize
Get access to all of our Live Webinars, On
Demand Webinars, Courses, Resources
and Support from just $29 a month!
Or book a demonstration here
Be part of our Community
Subscribe to our mailing list for exciting updates and alerts when new resources, courses or webinars are added.
Never miss a live session again
Save the dates for our live webinars in your calendar.